About
Corporate Philosophy
We strive to be a company that is trusted by customers
and contributes to developing society.
Tireless research and effort enables us to deliver technology with superior quality.

Our aim is to become the ultimate partner for our clients' manufacturing.

We protect the Earth's environment by not wasting limited resources and energy.
At Saga Plant Industry, we are constantly updating our operating structure in the pursuit of customer satisfaction, seeking to create new business trends.

Grasping market needs in real time through careful marketing, we strive to provide the world with products of the highest possible quality, while at the same time actively nurturing the young employees responsible for our next generation.

No matter how small the step, each day we advance steadily forward. This is our motto.
President's Profile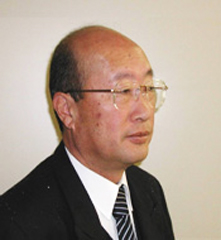 President
Takero Kitajima
 -Takero Kitajima-
Born in Karatsu, Saga Prefecture in 1949.
Aquarius, blood type A
Hobby: hot-air ballooning, Favorite book: Record of the Three Kingdoms
Level 1 Machine Design Engineer
An inquisitive mind from a young age, dreamed of becoming an archaeologist. To achieve this dream, passionately studied Asian history. However, with age this inquisitiveness turned towards machine engineering. Proceeded from the local Saganishi High School to study engineering at Kyushu University. Drawn in by the fascination of machine engineering, decided to make this his life's work.

After graduating university, worked at a machinery design office in Kitakyushu before moving to Saga Plant Industry in 1976.
Became president of the company in 1980. Since assuming the role, has been dedicated to a hands-on approach.
Established a style that involves visiting client production areas to meticulously research issues and areas of improvement.
Utilizing a high technical ability that enables design/production of original industrial machinery, created numerous one-off machines by uncovering hidden customer needs and passionately exchanging opinions on the factory floor. Continues to create steady growth with tremendous trust from customers.
In his forties, independently planned and created automated motor assembly machines, which failed spectacularly.
However, backed by trusted staff and supported by customers, saved the company from trouble with his naturally positive personality and characteristic ability to take action. This brought home once more the importance of individual connections and personal relationships.

His motto is 'Challenge! Challenge!! Challenge!!!'
His attitude to constantly seek new challenges remains unchanged today.

Establishing the company philosophy of 'striving to be a company that is trusted by customers and contributes to developing society', wholeheartedly pursues new technology and nurturing staff. Striving to become the ultimate partner for the manufacturing of all clients, continues to serve on the front line to ensure the company is a small yet shining star, true professionals in the design/production of industrial machinery.
Company Overview
Company Name

Saga Plant Industry

Location

1866-47 Kamioda, Kohoku-machi, Saga, Japan 849-0506
[View on GoogleMap ]

Telephone Number

0952-86-2898

Fax Number

0952-86-2350

President

Takero Kitajima

Established

December 1972

Capital

12,500,000 yen

Number of Staff

13

Type of Business

Design and production of manufacturing/processing systems